What is Code 25 barcode & what are its specifications
Code 25, also known as Code 2 of 5, is a linear barcode symbology commonly used for encoding numeric data. It is a relatively simple and compact barcode format, consisting of bars and spaces, with each character represented by a combination of five elements - two wide bars and three narrow spaces.
Code 25 has several sub types, most of all fully supported by the barKoder Mobile Barcode Scanner SDK. Those include Standard/Industrial 2 of 5, Interleaved 2 of 5, ITF-14, IATA 2 of 5, COOP 2 of 5, Datalogic 2 of 5 and Matrix 2 of 5.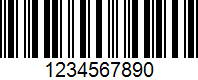 It is used in various industries and applications, primarily where numeric data encoding is sufficient. Some common use cases for Code 25 barcodes include:
Warehousing and Inventory Control

: Code 25 barcodes are often used to track and manage inventory in warehouses and distribution centers. They can encode item numbers, quantities, and other numeric information.

Manufacturing

: In manufacturing environments, Code 25 barcodes can be used to label and track components, work-in-progress items, and finished products.

Library Systems

: Some library systems use Code 25 barcodes to label books and other materials. Each barcode can represent a unique numeric identifier for cataloging purposes.

Telecommunications: Code 25 barcodes have been used in the telecommunications industry to mark and track equipment and cables.

Industrial Applications: Code 25 is found in various industrial settings for asset management, quality control, and production line tracking.

Pharmaceuticals: It may be used on pharmaceutical packaging to encode batch numbers, expiration dates, and other numeric data.

Transportation and Logistics

: In the past, Code 25 was used for labeling packages and containers in shipping and logistics, although more advanced barcode formats like Code 128 and QR codes have largely replaced it in this context.

Ticketing and Admission: Some event tickets or admission passes may use Code 25 barcodes to encode ticket numbers or other relevant information.
It's worth noting that while Code 25 has been used in these applications, many industries and businesses have transitioned to more versatile barcode formats like Code 128, UPC, or QR codes, which can encode alphanumeric and special characters in addition to numeric data. These modern barcode formats offer greater flexibility and information capacity, making them suitable for a wider range of applications.
How can the barKoder SDK help with your Code 25 scanning requirements
The barKoder barcode scanner SDK can empower any enterprise or consumer mobile or desktop app with state-of-the-art barcode scanning functionality with very little integration efforts.
Download the free trial SDK, evaluate barKoder via its Barcode Scanner demo app, explore our documentation hub, blog posts and more.